Typically, one of the mum-to-be's close friends or family members organises and hosts the shower. But these days people are planning
their own baby shower and sometimes with their partner involved too.
Either way, mum-to-be will be involved to discuss certain details, such as the guest list and location.
Here is a list of all things you need to consider:
Choose a Time and Date
Having and planning for a baby can be a hectic time, so make sure you plan potential dates with the mum-to-be. Usually, showers are held around four to six weeks before the due date, but consider these factors when deciding on a date:
Giving mum-to-be time to sort through her presents, set up the nursery, and shop for items she's missing.
Hosting the event early enough in the third trimester before she becomes uncomfortable to really enjoy the fun and games.
Giving mum-to-be some much-needed emotional support and a dose of fun at a time when she may be feeling nervous and apprehensive.
Decide on a Location
This is a big one for the times we are in. Consider what the mum-to-be would love and consider a few options in case of a last minute change. Of course, the usual things apply, your budget, number of guests, and even the weather but think about your current location and tier you fall into and think what could work best. Consider these ideas and remember to think numbers allowed for all:
Home (of the host or the mum-to-be)
It's private and comfortable. You have free reign in the kitchen, and everyone knows where the bathroom is. You don't need to worry if the venue has to close or regulations for meeting outdoors change as long as you abide by the number of guests allowed in a home. The mum-to-be's home can be a convenient option but be mindful not to cause extra stress with intensive preparations and clean up.
Restaurant or café: All you have to do is book a table, and you're set. Try to accommodate everyone's tastes, but the mum-to-be's favourite spot is always a great choice. Be sure the numbers follow government guidelines of course.
Hall hire/Party venue: Venue staff can likely help arrange almost everything you'll need but you could also personalise the space with your own decorations. Local village halls don't have to cost the earth!
Outdoors: If you have a beautiful outdoor location nearby, it could be a great option! Weather is always a concern in the UK but you can always prepare with a pop up gazebo or oversized umbrella. A picnic in a park or idyllic spot near a lake or beach can perfect and means you won't need to wear a mask!
Destination: Doing something for the day is a great way for mum-to-be to chill. Consider if she would love unwinding with her loved ones at a day spa? Or prefer getting creative at a crafts workshop?
Virtual: If we are unfortunate enough to be in tier 3 (or lockdown) and missing out on more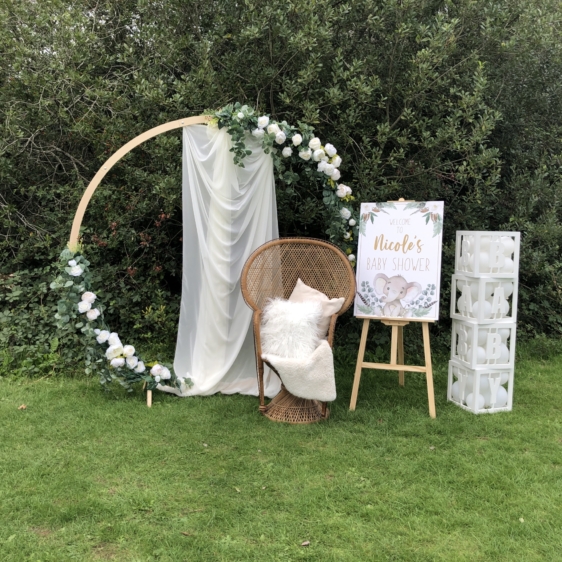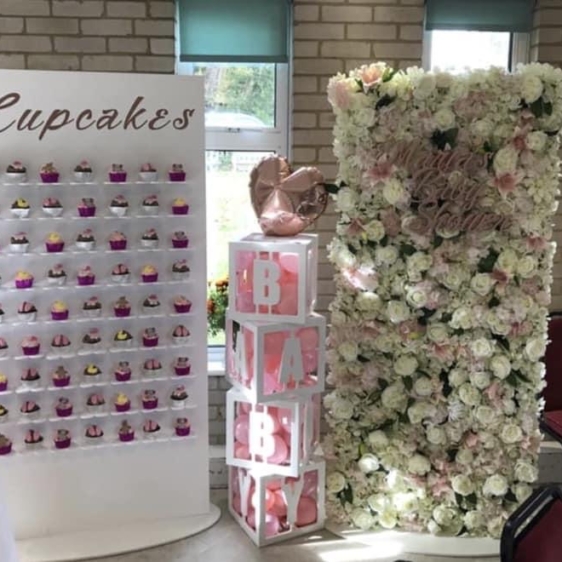 Organise Decorations
This is our favourite bit! There are so many inspiring decoration ideas just check out Instagram and the best thing is there are so many great suppliers in Hertfordshire to help you create the perfect setting either at home or in a venue.
Props
Flower walls, oversized light up letters, baby boxes, doughnut or prosecco walls are all the rage, so working with us can make your Baby shower made simple.
Colour options are not a problem so no matter what your theme they can work with it. Everything will be delivered and set up and they'll work to your timings whether it be the day before or morning of and cleared away after in a flash.
Balloons
Balloons have always had a place at any celebration but nowadays they can be the centre piece and showstopper. We can create a balloon arch in the centre of the living room and create a welcoming entry for the ladies over your front door. We can also add flowers to your balloon arch that pulled in the connection to the flower wall and table decorations.
Flowers
Flowers only seem to be considered for a wedding but actually they finish the overall look.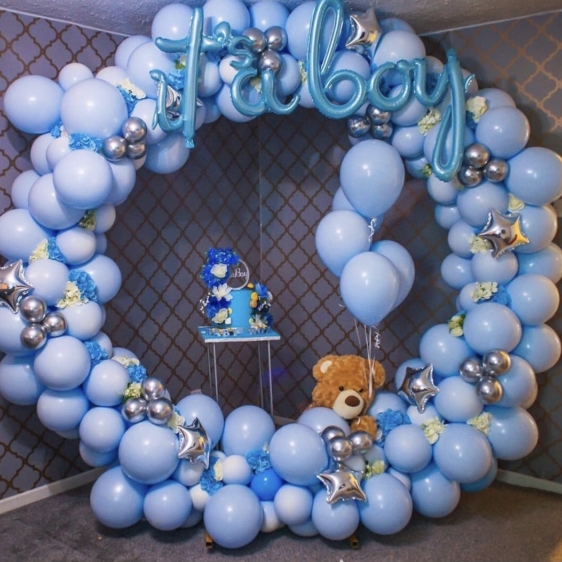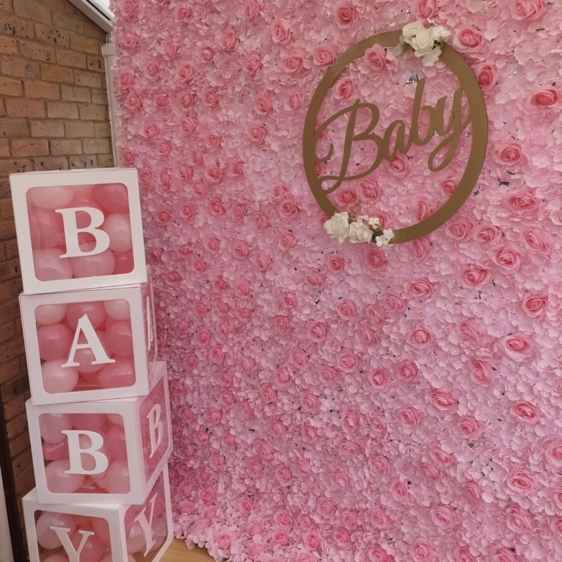 Tableware
Typically, the food table is the centre of attention in terms of decorations. We will dropped off in plenty of time with everything we could need including the all important lighter!
Cake
I think everyone would agree with the cake is a vital part of any celebration and we work alongside some amazing cake bakers who are real artist in the kitchen.
Plan Some Baby Shower Games
Baby showers usually wrap up after a few hours, but the memory of this occasion will last a lifetime for the mum-to-be. Ask whether she would like to play some baby shower games as part of the celebrations. Think about how long you want to spend on it, and how many to prepare. Make sure you have the supplies you'll need, and prizes for the winners.No idea what games to play? Get inspired by these baby shower game ideas. You may want to kick things off with a few ice-breakers, such as Who's That Baby?
For this game, ask everyone to bring a baby photo of themselves to display, and play a round of who's who. You could play baby bingo, or test guests' knowledge of baby animal names.
For even more printable baby shower games that are sure to WOW download these great games.
Gifts for Mum-to-Be
A baby registry helps guests know what they can give that the mum-to-be will really appreciate. If she's chosen to have one, the mum-to-be usually puts it together, but you'll need to add the details to the invitations. Help the mum-to-be by sending her this gift registry checklist so she knows what types of things she could include. The registry typically includes things the baby needs such as clothes, books, or basic supplies like nappies.
We can supply you with a list of local businesses for a gifts selection.
Photography
Last, but by no means least, capturing your day. We have all improved our photography skills over the last year with our love of instagram and selfies, but you don't want to be spending your day behind your phone. Or worse be too busy to capture it. Hiring a photographer for these special occasions can be really worth the investment.
*All images used in this article are for inspirational purpose only